WhatsApp says it now has 600 million active users
6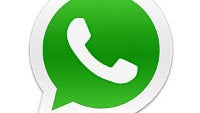 In the battle of instant messaging apps, everyone is chasing WhatsApp. There is good reason why Facebook decided that WhatsApp was
worth $19 billion
. Today, WhatsApp CEO and founder Jan Koum sent out a tweet to remind us all why WhatsApp is so valuable: it now has 600 million active monthly users.
The last time we heard from Koum was back in April, when WhatsApp hit the
500 million active users
. For comparison, around the same time, Facebook announced 200 million active monthly users of its Messenger app. So, at this point, Facebook must have well over 800 million total active users in its messaging world (and another 200+ million in Instagram). The next biggest messaging app is WeChat with 438 million active monthly users. WeChat is huge in China, but not as big around the world. Beyond that is Line, which announced 400 million active monthly users as of April, and recently
set its sights on the U.S.
.
Of course, as big as WhatsApp is, and as many photos are shared with the service every day (which is also a huge number), Facebook will likely be looking for some more in terms of revenue. WhatsApp's only source of revenue is its $1 per year subscription fee. Meanwhile, competitors like Line are raking in huge profits through in-app purchases of stickers and themes, and a stable of games.