WhatsApp: Over 500,000,000 served
15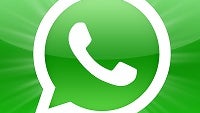 What do you do when you run the world's most popular instant messaging service? Fix "a lot of bugs" is one thing you can do, not that WhatsApp is ridden with problems, but the company did just surpass its 500 millionth active monthly user mark yesterday.
With that user base, WhatsApp has also been carrying the burden of sharing 700 million photos and 100 million videos
every day
. With such milestones achieved, you would think that WhatsApp co-founder Jan Koum would be in a mood to celebrate.
"We're going to get our engineers together and fix a lot of bugs," according to Koum. That sounds downright good and boring, which is how he likes it. The internal focus has been about keeping everything polished, "We don't have anything huge we've changed in our last six months, but we've had probably 1,000 little bug fixes and improvements."
We already know what the next big step is for WhatsApp, and that is voice calls, something Koum announced at Mobile World Congress. WhatsApp is already offering its own
branded prepaid mobile service in Germany
which allows free access to use WhatsApp messaging whether you have minutes or data available on your account or not.
WhatsApp's co-founder, and Koum's partner, Brian Acton likes to keep things somewhat in check as well, "I worry about how to offer a competitive set of features without making the UI difficult, the user experience worse, the application bloated. These screens are small. There's a limited amount of memory and bandwidth. It's just all about focus."
WhatsApp's strongest growth markets are India, Brazil, Mexico, and Russia, with India being the single largest market at 48 million users. Koum and Acton reiterated that WhatsApp will continue to operating independently once
Facebook completes its $19 billion acquisition
of the instant messaging service.
Competition is strong in the instant messaging space, but Koum is confident, noting that it takes more than just money and a flashy marketing campaign to make things happen, "There's not enough money and not enough celebrities in the world to convince people to use a shitty product. People are so savvy these days. People expect a good user experience."
source:
re/code