WhatsApp for Android now fully employs Material Design; Holo, begone!
12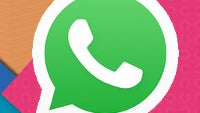 Roughly a month ago, we reported that the Android version of WhatsApp, one of the more (if not the most) popular messaging services out there,
got its first taste
of Google's
Material Design
. Unfortunately, the update in question (2.12.34) was not initially available for all users straight out of the Play Store. What's more, there were still certain aspects of the interface that refused to get rid of the boring, yet well-known Holo design.
All of these are a thing of the past now, as version 2.12.84 of the app now officially allows each and every WhatsApp user with a 'Droid handset to experience the refreshed design of the messenger app. It's streamlined and a bit more organized than the very first version that commanded the refreshed looks. Unfortunately, it still comes with a few archaic Gingerbread icons here or there.
Luckily, a new beta version of the WhatsApp (2.12.87) polishes the user interface and gets rid of these. It also extends the reach of Material Design even further by overhauling the in-call interface, putting a subtler wallpaper in chat conversations, and now even supports the new diverse iOS emojis that arrived with the latest rendition of Apple's mobile OS.
You can get the latest official version (2.12.84) from the link right below; for the more refined beta (2.12.87), go
here
.
Download: WhatsApp (
Android
)