WhatsApp banned in Iran
72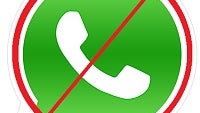 The world's most popular messaging app is being blocked by Iranian authorities. WhatsApp, recently acquired by Facebook, was a key avenue for people to communicate with friends and relatives inside and outside Iran, but Iran's Committee on Internet Crimes has ruled.
What reason could there be for this? It's Mark Zuckerberg's fault apparently. Because he is "an American Zionist" who now owns WhatsApp, it must be stopped. The messaging service joins WeChat, which was banned last year.
"The reason for this is the assumption of WhatsApp by the Facebook founder Mark Zuckerberg," said Abdolsamad Khorramabadi, head of the aforementioned internet crimes committee.
Of course, it probably does not matter to these people that old Zuck owns less than 30% of Facebook nowadays. Facebook itself apparently has limited accessibility in the country, along with the other major social networks like Instagram, Twitter, Viber, YouTube, et al. In fact, several government officials are active on these social networking sites themselves, where they shovel out the propaganda.
That may be the only thing tempering new fears that Iran may start to put a real clamp on data connectivity to internet based services and implement Halal Net, a national intranet that has been sanitized by censorship officials. Data tracking in Iran became a priority following the election riots in 2009 and 2011.
Some folks are able to get around restrictions using third-party proxies. It looks like it is time for a bunch of apps that help them do that.
source:
Fox News
UPDATE

:
Thanks for the comments folks. The source was citing its own source re: accessibility of these sites from within Iran. Please feel free to use the "tip us" link for additional corrections.
UPDATE #2

:
It looks as though WhatsApp is indeed working, at least for some folks. Knowing how quickly media can be shut down in Iran, there may have been some other issue. However, given the rhetoric that comes from the Iranian government, such a move as banning WhatsApp would be seen as par for the course by other countries.