New leak details what to expect from Apple during tomorrow's press event
8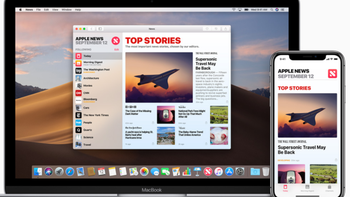 Tomorrow, Apple will hold a press event during which it is expected to introduce a news subscription service, a video streaming service, and possibly a game subscription service.
Today, the Wall Street Journal leaked out
exactly what we will see from Apple tomorrow. The bottom line is that Apple sees the writing on the wall; iPhone sales are struggling as
revenue attributable to the device declined 15% year-over-year
during the company's first fiscal quarter of 2019, which included the holiday shopping season.
While it might not have announced it to the world, internally Apple must have seen this slowdown coming. Over the last year, Apple has set a goal of doubling its services revenue from $25 billion in 2016 to $50 billion by 2020. During the aforementioned fiscal first quarter, the tech giant took in nearly $11 billion in such revenue. The services unit is Apple's second largest in terms of revenue, and is its most profitable. With 1.4 billion active iPhone users around the world (
says Bloomberg
), such businesses as Apple Pay, AppleCare+, App Store, iTunes, Apple Music and the new subscription services to be announced tomorrow will go a long way in helping Apple transition from the iPhone era to whatever the next big thing is.
Tomorrow, Apple will unveil its new video service that it expects to offer in over 100 markets worldwide. This service will combine Apple's original programming, on which it spent over $1 billion, with programming from other networks. Some clips from its original programming will be shown at tomorrow's event. While Apple originally said that the service would be free to those owning Apple devices, that might no longer be the case. What the company will charge for its own shows is unknown at the moment.
Meanwhile, the Journal's report notes that the original series will be available via a new TV app that will also allow users to subscribe to Starz, Showtime and HBO for $9.99 each per month. The idea is to make this new app, which internally Apple's has called "the Netflix killer," a one-stop shop for television viewers. It isn't a traditional move for Apple, but those close to the company say that the new video service will be offered on multiple platforms including Roku and some smart TV brands. These names could be announced tomorrow.
"They built an organization to make beautiful gadgets and compete with Samsung and other gray-box manufacturers. Now, they have to really think about the services and software that have been so uneven and compete with a lot of very different competitors.-Mike Levin, co-founder of Consumer Intelligence Research Partners (CIRP)
Will Apple unveil a subscription service for gamers tomorrow?

The business paper reported on its own participation in the service, saying that it will feature more general news rather than the dry business reports that the paper is known for. It should be noted that a digital subscription to the Journal normally costs $39 a month, so subscribers to the premium tier of Apple News are getting a bargain here. Dow Jones will be hiring more reporters just to give Apple News members access to more news stories. People familiar with the service say that Apple will split revenues 50-50 with publishers. But as Business Insider pointed out last week, the service might be lucky to grab as many as 2 million subscribers initially.
Earlier today, we told you that tomorrow,
Apple might also be introducing a monthly subscription service for gamers
. Those familiar with Apple's plans say that the company will take a cut of revenue and then distribute the rest to developers based on how long each game is played for. However, we should point out that the
Journal
had no mention of this in its story.
Apple's event tomorrow will be held in the Steve Jobs Theater on Apple's Cupertino campus. It will kickoff at 10am PDT (1pm EDT), and you can check in right here at PhoneArena for all of the news and analysis related to Apple's announcements.