What if the Nokia 3310 and Ericsson T28s were smartphones? Beautiful renders show us the past re-imagined
18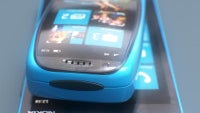 What if the past wasn't what it was? What if some of the most popular phone devices ever created were not featurephones, but smartphones instead? This isn't just a rhetorical question, at least not today, for we have two dozens of absolutely stunning renders of the Nokia 3310 and Ericsson T28s that paint exactly that kind of picture.
Created by 3D designer Martin Hajek, we found something absolutely mesmerizing in these renderings, perhaps because the devices in question don't look half bad even by today's standards, and despite occasionally being shown off in the company of the iPhone 5s. Whether this is the nostalgia in us talking or not will be for you to decide.
Anyways, both devices are shown off with interfaces that make sense today – Windows Phone for the Nokia 3310 and Android for the Ericsson T28s. For whatever reason, however, the 3310 received more attention, for while both UIs were rendered in a bit more authentic, black-and-white, the 3310's is also then rendered in color.
Without any further ado, jump right into the slideshow gallery below and take a peek for yourself. Let us know if you, too, liked what you saw.