West Point grad sparks controversy by getting caught texting during graduation march
30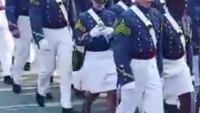 Anyone graduating West Point is supposed to be disciplined. After all, the school was founded by George Washington and Thomas Jefferson. While neither of them have a sold out Broadway show named after them, they both were important names in American History. With an acceptance rate of 9%, getting into the school requires one to be motivated and poised.
So this is why there has been a controversy over a female West Point graduate who was participating in the graduation march with the rest of the class. But, instead of standing erect while marching, in the traditional military manner, this grad had a more modern pose. She had her smartphone out, head down, eyes focused on the screen while her thumbs typed away at the text she was sending.
The unidentified graduate's texting set off a flurry of protests from those who felt that she was being disrespectful to the traditions of the 214 year-old school. Perhaps she needs to
adjust the greyscale on her phone
.
If you click on the video below, you'll find the texting grad 50 seconds into the clip.
source:
NYPost
via
WashingtonPost