Stop your smartphone addiction with this simple cure (VIDEO)
7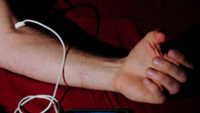 Are you addicted to your smartphone? When the battery is dead or your handset is lost, do you start to feel some withdrawal symptoms? Do you become shaky at places where you aren't supposed to use your phone, like at the movies? In Britain, a survey found that the average Brit can't go more than one hour before checking his or her smartphone. But there is a cure.
According to a video produced (tongue-in-cheek, of course) by
The Atlantic
, the cure to your smartphone addiction is right in your handset's settings page. By turning the phone's display to greyscale, you are removing the one color that causes your brain to get excited. That color is red. That is why "STOP" signs are red and why notifications are often the same color. According to The Atlantic, it is the color red that makes you want to check your smartphone so often. How often? A Gallup poll conducted last year found that 72% of smartphone owners check their phone every hour.
With an Apple iPhone, you can put your screen into greyscale by clicking on the
Settings
icon. Tap on
General
, and
Accessibility
. You will then see a greyscale toggle switch that will will remove the colors from your screen. On devices running Android 5.0 or higher, go to
Settings
and then click on
About Phone
, You will see the build number of your handset. Tap on that repeatedly to open
Developer Options
. Turn it on. Go to
Hardware accelerated rendering
, select
Simulate color space
, click it and set it to
Monochromacy
.
Once your mobile world is a dreary grey, you find yourself looking at your smartphone a lot less than you usually do. You become more productive since you won't feel compelled to check your handset every hour. If your life is being seriously hindered by your phone, it won't cost you a dime to remove the color from your screen to see if it helps.
As for us, well, we can stop anytime.
source:
TheAtlantic
via
NYPost