Well-connected analyst cuts Apple Watch 2016 shipping estimates by 15 to 25%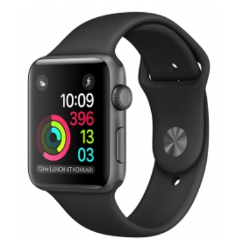 In a note to investors, Ming-Chi Kuo, a respected analyst with deep Apple connections, has cut shipping estimates for the
Apple Watch
by 15 to 25 percent.
Previously, Kuo had estimated that Apple will ship between 10 to 10.5 million Apple Watch units by the end of the year, but now his estimates have been cut to 8.5 to 9 million units. These numbers include both the original Apple Watch, now called the Apple Watch Series 1, as well as the new smartwatch model, called the Apple Watch Series 2.
Interestingly, Kuo has raised his shipping estimates for the Apple Watch Series 2 by 10 percent. However, the analyst doesn't believe that this will make up for the slowdown in sales of the Apple Watch Series 1.
Last year, Apple is estimated to have shipped 10.4 million Apple Watch units in just eight months of commercial availability. If Kuo's new estimates turn out to be accurate, then Apple will sell about 19% fewer smartwatches this year despite having three additional months of runway.
According to Kuo, this decline in Apple Watch sales is due to several factors. Among them, Kuo mentions the lack of hit apps, poor battery life, as well as a heavy reliance on the iPhone. Here's a comment from Kuo's recent note to investors, captured and reposted by Apple Insider:
This suggests that sales of the new Apple Watch models are indeed driven by hardcore Apple (US) fans, first-generation replacement demand and niche demand, rather than by the mass market.
Moving past this, Kuo does not believe that Apple's partnerships with big retail brands such as Nike and Hermes will increase demand for the Apple Watch.
Fitbit remains the leading wearable device manufacturer, with shipments continuously on the rise despite the introduction of the Apple Watch. Kuo's downward revisal of estimated Apple Watch shipments for 2016 is yet another indication that the average customer has yet to be sold on the smartwatch concept. While the Apple Watch (like all Android Wear competitors) aim to accomplish a number of tasks, Fitbit's dedicated fitness trackers are far more efficient in achieving their goals, as simple as these might be. Kuo mentions:
We believe Fitbit's products can be likened to the iPod for their minimalist key functionality and outstanding design.
What do you guys make of all this? Where do you stand in the simple fitness wearable vs complex but failed smartwatch battle?