WeeFacebook widget for iOS 5 Notification Center goes 2.0
8
If you don't know what WeeFacebook does, it is a
3rd party widget for the newfangled Notification Center
that brings mobile Facebook to the pull-down notifications menu in
Apple's latest iOS 5 version
.
The ability to shrink or expand the notification widget, so as it doesn't take so much space in Notification Center's pull-down menu, is the main update in
WeeFacebook 2.0
.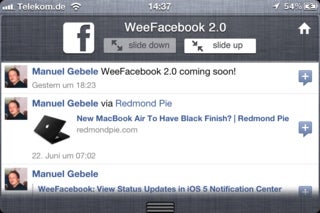 Also, now you can tap "slide down" to fully expose your friends' feeds and updates, and then tap "slide up" to shrink it if your attention has to shift to other events or widgets happening in Notification Center, which a pretty clean idea.
Unfortunately, it is not yet available in Cydia, so you have to follow the step-by-step guide in the source link, if you want to install and use it with your iOS 5 beta.
Bear in mind, however, that these 3rd party widgets and other changes to Notification Center are popping up for jailbroken devices only, running the beta version of iOS 5, and are a product of enthusiasts' work, not endorsed in any way by Apple.
via
RedmondPie
Recommended Stories