Web site re-design accidentally reveals 4 new Motorola devices including the Tracy XL watch
14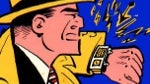 Someone working at Motorola might be seeking employment elsewhere after a re-design of the manufacturer's web site led to the accidental leaking of four
previously unannounced
devices. The four include the
Motorola Zaha
, the
Tracy XL
, the
Streamline
and the
XOOM 2
tablet. All but the latter are probably code names, so don't start complaining that the manufacturer is sticking lame titles on its products
Although no specs were revealed, a look at the pictures show us that the Motorola Zaha and Streamline are two
very thin
devices, possibly close to matching the measurements of the Samsung Galaxy S II. The Zaha resembles the Motorola Citrus or Bravo while the Streamline has the squarish shoulders seen on the DROID series.
The Tracy XL is a
watch
in the style of comic strip detective Dick Tracy's once seemingly impossible
two way wrist radio
. There is no word on whether the watch will give the user a full Android experience on the wrist, or if it is just a notifications accessory like the Sony Ericsson LiveView. The Motorola XOOM 2 is the follow-up to Motorola's first Android tablet, and keeping with the manufacturer's new apparent focus on making
thinner
and
lighter
products, the tablet will follow suit.
Just in case these pictures were not meant to be seen by human eyes at this point in time, we suggest you study the images very well and commit them to
memory
. In fact, you won't find the pictures anymore at the source link as Motorola Mobility requested that the site
remove
them. So far, we have not received that request so you will find the photos below.
source:
Pocketnow
Recommended Stories