Wearables for kids free with McDonald's Happy Meals; two different models have limited functions
17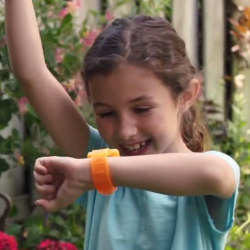 What's the best way to get tomorrow's adults used to the idea of wearing a smartwatch or a fitness band? Simple. Have them start using a wearable while young. Because most parents aren't too keen on bestowing such a pricey device on their young'uns, McDonald's might have the best idea. Over the next few weeks, those tykes getting a Happy Meal at Mickey D's will receive a free plastic wearable toy inside.
Now we have to say that we were expecting something that was all plastic with tiny multi-colored balls inside with absolutely no functionality at all. But there are two different styles being given away, and they both actually have one feature that works. One has a red LED light that blinks fast when the kid wearing it is running. The LED blinking slows down as the wearer does. The second freebie is a digital pedometer that will count the number of steps that the wearer takes. At some point when the number gets too high, it can be reset. Each wearable is available in three colors which means that there are six different versions in all.
Companies like Apple, Samsung, Motorola and Microsoft should be pleased as punch to see McDonald's give this away. After all, today's Happy Meal consumer is tomorrow's smartwatch buyer.
The promotion is being offered in the U.S. and Canada. McDonald's has released a couple of ads that it is running in Canada, and you can check them out by clicking on the videos below.
source: McDonald'sCanada (
1
), (
2
),
MarketingMag
via
SlashGear