Watch what a jerk you can be wearing Google Glass
16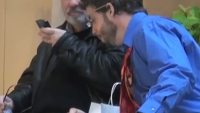 Take a mall full of festive holiday cheer, throw in funnyman Ed Bassmaster and a pair of Google Glass, and you have a funny video that shows you what the future could be like. And it isn't pretty. Bassmaster walks around, pretending to be talking on his connected specs, but does so loudly enough to confuse or shock the innocent bystanders in the mall.
For example, as Bassmaster approaches a couple of serious looking guys, he loudly asks Google Glass to do a search on diarrhea remedies. He also pretends to be speaking to his mom while confusing a trio of young kids sitting on a mall bench. What is interesting is that when Bassmaster reveals to his targets that he is using Google Glass, everyone seemed to be familiar with the device which has to be good news for Google.
With Google broadening out the Explorer program, and
now allowing Explorers to buy a second pair of specs
, by this time next year there could be a number of people walking around the malls wearing Google Glass. If you want to see why some are calling those who don a pair of the connected specs "Glassholes," click on the video below.
Thanks, Sunny!
source: EdBassmaster via
Mashable