Watch the first LG G4 TV commercials here
21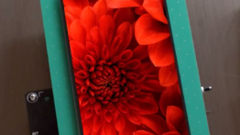 Yesterday, LG released
an official product video
to present its latest and greatest flagship smartphone, including very interesting footage shot with a G4 that was mounted on a drone. Now, LG has more G4 videos to show us: four official TV commercials.
The first commercial showcases the new 5.5-inch IPS Quantum display of the G4, which seems to be better in every aspect than the 5.5-inch screen of the G3, offering increased brightness, plus "richer and more natural color reproduction." The second commercial is all about the G4's 16 MP rear camera, which comes with an F1.8 lens and Manual Mode.
The third and fourth commercials are similar, showing how the genuine leather back covers of the G4 (in black and brown, respectively) are made. You can watch all four TV commercials below.
As you may know, the G4 is not yet ready to be released around the world, but LG is planning to do it starting next month. Besides having a 5.5-inch Quad HD display, a 16 MP rear camera, and optional leather rear covers, the G4 features an 8 MP front-facing camera, a six-core Snapdragon 808 processor, Android 5.1 Lollipop with LG UX 4.0, a 3000 mAh removable battery, and so on. You can find out more about the new handset by checking out our
LG G4 hands-on
.