Watch the Samsung Galaxy S8 and S8+ "Unpacked" event livestream right here
31
The event will start on March 29th, 2017 at:


08:00 AM PT | 11:00 AM ET | 04:00 PM GMT
Ladies and gents, the announcement of the most anticipated Android flagships of 2017 is almost upon us! We're mere moments away from the unveiling of the
Samsung Galaxy S8
and the
Samsung Galaxy S8+
– two premium smartphones with a radical design and a host of interesting features.
As you may know, Samsung will hold two separate concurrent events for the occasion – one in New York, and one in London. Sadly, most of us won't be able to make it to either location, but the South Korean manufacturer is making sure that anyone interested will be able to watch the show by providing several different ways to do so. They are listed below, so pick the one you're most comfortable with, and make sure that you won't forget to tune in at 11:00 AM ET! Also, if you'd like to follow all the details at the press conference,
make sure to check out our
liveblog for the event
.
YouTube livestream
As with all major events of this kind, all the action will be streamed live on YouTube. You can find the embedded link
at the top of this article
, and the livestream will most probably start a few minutes before the official time.
Unpacked 2017 App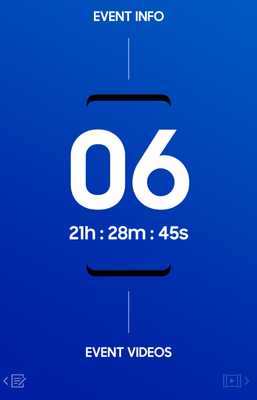 In addition to the more standard streaming methods, Samsung has also prepared a dedicated app for the Unpacked event. Right now, the app features a countdown timer ticking down towards the big day, but you should be able to watch the stream there once the time comes. It also displays some of the recent teasers that Samsung has already released in order to keep the hype high.
You can get it both on Android and iOS by clicking the above links, and if you happen to be one of the lucky ones that were invited to attend the live events, the app can generate a QR code that will help you skip the registration queues at the door.
Samsung Unpacked website

Finally, you can also choose to watch the whole thing on
Samsung's dedicated web page
. Bookmark the link away and make sure that you won't forget to set your alarm for 08:00 AM PT | 11:00 AM ET | 04:00 PM GMT