Watch another funny Google Voice Search vs Siri skit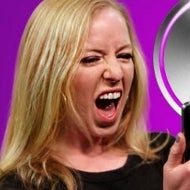 Google's new Voice Search vs Apple's Siri voice assistant comparison videos are
a few and far between
, but this one below tries to liven things up a little bit, and ask some out of whack questions.
Both services present themselves with various degrees of success, yet Android Jelly Bean's Voice Search evidently has the upper hand, as it is tied up directly with Google's world class search results, and shows them in a snap.
Siri failed to recognize the questions a few times, making the girl in the video ask herself whether she has a speech impediment that she has not been aware of until now, and kept putting off her question about scallions until it was no longer needed. A pretty funny skit to watch, and we bet there will be more of those when iOS 6 and Jelly Bean hit more and more handsets. The fun starts at 3:15 into the vid.