Watch an old Game Boy get hacked into controlling an SNES emulator for Android
4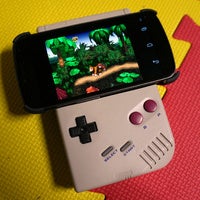 Although there's no shortage of gaming peripherals made for smartphones on the market, Chad Boughton wanted to build something on his own. That's how his do-it-yourself Game Boy Android gamepad came to be, combining the physical controls of the classic handheld game console with the ability of Android to emulate old-school video games.
For his project he gutted an old Game Boy and attached a
Samsung Galaxy Nexus
case right where the screen of the device used to be. Then on the inside he installed a Nintendo Wii Remote with its buttons hardwired to the console's physical ones. A pair of AA batteries were used to power the Wii Remote. On the software side, Chad used an Android app called Wii Controller IME to handle the communication between his Galaxy Nexus and the remote over Bluetooth. And tada! His controller was done, allowing him to play Donkey Kong without having to deal with those pesky on-screen controls.
Even though an SNES emulator is being used for demonstration's sake, this homemade controller it should work with any other app that supports button mapping. Unfortunately, there are only two hardware buttons available on the Game Boy, meaning that games requiring more would be a bit trickier to play, but who knows, a way around that might come in future versions of the hack.