Watch a case designed for the Apple iPhone 5 protect a device from a 100,000 foot fall
34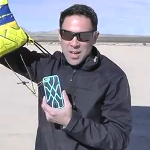 We could tell you about what G-Form's impact absorbing Xtreme
Apple iPhone 5
case is all about. Sure, we could mention the Reactive Protection Technology or the fact that the case has a
3-layer protective composite
with a polycarbonate outer shell, an RPT core and a shock absorbing third layer. But what does that all mean to you? Better that you take a look at a video of a stunt that was performed near Area 51 in the Nevada desert.
fifth-generation Apple iPod
which was used for the test. The device encountered temperatures as low as
60 degrees F below zero
as it was attached to a weather balloon that reached a peak height of 100,000 feet. The balloon then started plummeting to earth and was found 41 miles from the launch site without a scratch, in perfect working condition. It
wasn't the first time that G-Form sent the Apple iPod 100,000 feet up to test its case
as a similar stunt was tried almost exactly one year ago. Last February, an Apple iPhone 4 placed in a G-Form case
was used as a puck and traveled as fast as 82mph
. It survived.
While the Apple iPod that was sent into space survived, the video camera aboard conked out at 60,000 feet due to the cold weather. The same thing happened to the back-up sports action camera aboard that failed halfway through the fall to earth, again, due to the cold.
"People are blown away that we could send a device guarded with solely our sleek iPhone case up to 100,000 feet and then let it free fall without worry. With an ordinary case people might worry if they simply dropped it off of a table or while getting out of their car. This test just proves how confident we are that the new XTREME line will protect against anything."-Thom Cafaro, VP of Innovations, G-Form
G-Form will be displaying it's latest Xtreme cases at CES 2013 and will be shipping this month for the Apple iPhone 5, 5th-generation Apple iPod,
Apple iPad
,
Apple iPad mini
and the
Samsung Galaxy S III
. Pricing starts at $39.99. To order, you can visit the sourcelink.
source:
G-Form
via
Aving.net