Watch T-Mobile CEO John Legere get into shape to host the Un-carrier 11 announcement
3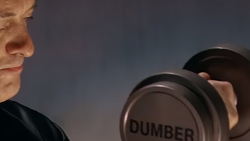 T-Mobile is expected to introduce Un-carrier 11 on Monday. This will
supposedly be called Stock Up and will give one share of T-Mobile's stock to the carrier's postpaid subscribers
. Additional shares (up to a total of 100) will be given to postpaid subscribers who are able to get friends and family members to sign up for at least 15-days with the carrier.
Being the CEO of a company about to make such an announcement is grueling to be sure, which is why video has surfaced of John Legere 'training' for the event. The executive is seen lifting weights labeled "Dumb and "Dumber," (which are Verizon and AT&T, respectively, in Legere-talk) and practicing his usual gestures. We also see him memorizing cards for his speech ('Industry = Stupid' reads one).
Look, you don't have to be a T-Mobile customer to understand what Legere does differently than other CEOs in the industry. Could you imagine Verizon's John Stratton doing a video like this? T-Mobile's CEO takes his job seriously, and is always willing to speak to T-Mobile subscribers. But he doesn't take himself seriously and his self deprecating sense of humor endears him to many consumers.
Now that Legere has been working out, he is all ready to handle anything that might come his way when Un-carrier 11 is unveiled today. The T-Mobile event will take place starting at 1:00 pm Eastern Time today. Keep checking in for the latest on T-Mobile's new initiatives. In the meantime, see how a successful CEO prepares himself for a major challenge by clicking on the video below.
source:
T-Mobile