Watch Samsung Galaxy Note 4's S Pen in action in this official promo video
23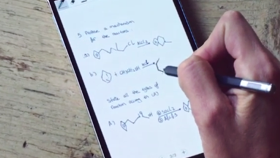 Samsung earlier this week announced its brand new
Galaxy Note 4
- the company's third flagship Android handset of 2014 (after the
Galaxy S5
and
Galaxy Alpha
). Last year's
Note 3
was already a beast of a device, and Samsung managed to make the Note 4 even better - in pretty much every aspect.
Since the S Pen stylus has been one of the Galaxy Note's line highlights from the very beginning, this is - unsurprisingly - one of the features that Samsung has enhanced. The Note 4's S Pen has double the sensitivity of its predecessor, this making it feel more like a real pen when writing or drawing. In addition, the S Pen can now be used like a PC mouse (sort of): you can click and drag to select multiple items, then edit, or move them.
Samsung uploaded an official promo video to showcase the S Pen of the Note 4, and you can watch it below.
For a detailed look at the specs of the new Note, check out
this post
. Additionally, you should not miss
our Galaxy Note 4 hands-on
(video included!). The Note 4 will be released in the US in October
via all major mobile carriers
, most probably for prices starting at $299 on contract. The device is also expected to go on sale in Europe on October 10.