Watch RIM's Thorsten Heins discuss BlackBerry 10 with the BBC
9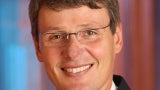 It's true that when a company has to catch up, it needs all the exposure it can get. RIM's CEO, Thorsten Heins, seems to be realizing that so we're hearing about him relatively often.
His latest appearance has been in an interview for the BBC. With a slightly cold, but not indifferent, expression, Thorsten Heins has sat down with the BBC's Rory Cellan-Jones to discuss the upcoming BlackBerry 10 platform and the current position that RIM's in. Interestingly, when the BBC reporter asked the CEO if it isn't too late now to bring BlackBerry 10 to market, he answered that "quality matters" and it isn't really too late. When Cellan-Jones made another point that while it has once been cool to own a BlackBerry, a recent article in the NYTimes claimed that some users today even feel ashamed of still having one. To answer this, Mr. Heins said that the sources used for this article are somewhat questionable, and that BlackBerry is actually seeing impressive growth around the world, while the company plans to regain its lost positions in the U.S.
So there you have it, it looks like everything is just super-great in the land of BlackBerry now, so there's absolutely no reason to worry about it. Right?
via:
CrackBerry