Warning: Spotify for Android has fairly limited device compatibility
2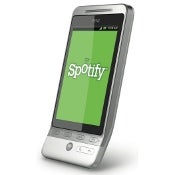 A lot of people are buzzing over the fact that
Spotify has finally come to American shores
, but users looking for mobile streaming have to be careful before signing up for the extra cost. In order to get mobile streaming, Spotify users need to have a premium account, which is $10 per month. iPhone users don't have to worry, but BlackBerry users are completely out of luck, and it's pretty hit or miss for Android users.
The official list of compatible Android devices is:


- HTC Desire, HTC Desire HD, HTC Desire Z, HTC Dream, HTC Hero, HTC Legend, HTC Magic, HTC Tattoo, HTC Wildfire
, Google Nexus One
;

- Huawei U8220,
Huawei U8230, Huwaei U8300, Huawei Ideos U8150;


- INQ Cloud Touch;


- LG GW620;


- Motorola XT720, Motorola CLIQ, Motorola CLIQ XT
;

- Samsung Galaxy, Samsung Galaxy Tab, Samsung Galaxy 3, Samsung Galaxy S, Samsung Galaxy 5, Samsung Spica
;

- Sony Ericsson Xperia X8, Sony Ericsson Xperia X10, Sony Ericsson X10 Mini Pro, Sony Ericsson Xpera X10 mini
;

- ZTE Blade.

In some cases, devices not specifically on the list will still work, since this list is made of the European names for many devices. For example, it's likely that the T-Mobile G2 will work as it is essentially the same as the HTC Desire Z.
Let us know in the comments if your device works, but isn't on the list. We'll see if we can't build a better compatibility list than Spotify. It seems hard to believe that we couldn't at least add the Google Nexus S to the list.