Warhammer: Odyssey announced for iPhone and Android
2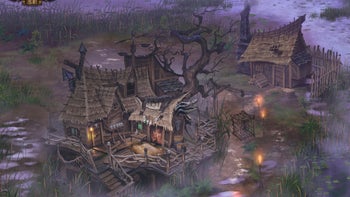 Long gone are the days when we were craving for a new
Warhammer game
, as Games Workshop has started to offer its franchise to just about any developer that wanted to create a game based on the Warhammer universe.
Today, Games Workshop and Virtual Realms announced a brand new mobile game called Warhammer: Odyssey. The game doesn't have a release date yet, but we do know that it will come on iPhone and Android.
Warhammer: Odyssey is a 3D mobile MMORPG (massively-multiplayer online RPG), in which players will explore iconic locations of the Warhammer Fantasy World. According to developers, the game and the world of Warhammer: Odyssey will expand over regular episodic updates.
There will be three playable races and six character classes in the game, each with their unique strengths and weaknesses. Players can choose to play Human, Dwarf or High Elf, and then choose one of the six classes available at launch: Witch Hunter, Warrior Priest, Slayer, Engineer, Shadow Warrior, and Archmage.
Not much is known about the game, although the premise is quite generic. You join a Mercenary Company and fight back the influence of an archvillain across hundreds of quests through iconic locations like Marienburg, Drakwald Forest, and The Wasteland.
Warhammer: Odyssey will be free-to-play, but it's likely to include optional in-app purchases. We can't wait to see gameplay trailer at some point since this looks pretty interesting.
Recommended Stories