Want to know why Apple is picking on Samsung in court?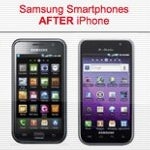 Motorola
and HTC are two that come to mind. But when you think about Apple's Army of attorneys battling a defendant in court,
your mind automatically goes to Samsung
. It is Samsung that Apple claims "
slavishly
" copied the design of its Apple iPhone and Apple iPad with the Samsung Galaxy line. It is Samsung that
Apple claims "unjustly enriched" itself to the tune of $2.525 billion
. And of course, it is the Samsung Galaxy S III
that has sold 10 million units in a heartbeat
, getting Apple worked up about their smartphone losing its position as the most coveted handset in the world.
The 'visual graph', from a tweet sent by
All Things D
's
John Paczkowski
, shows the reasoning behind Apple's laser like focus on Samsung. Just looking at the images would probably have you
believe that Samsung was guilty
of copying Apple's design. But you would need to know the whole story.
The first touchscreen handset from Samsung's camp was the F700.
Despite the uncanny resemblance to the Apple iPhone, the Samsung F700 featured a side-sliding QWERTY keyboard unlike Apple's handset. More importantly, the F700 was introduced just one month after the Apple iPhone. Some feel this is too close to the announcement of Apple's device for the Korean based manufacturer to have taken its cue from the iPhone.
Of course,
the Samsung F700 isn't the issue of the current Apple-Samsung patent war
, but we wouldn't be surprised if in Apple's mind, it is the first example of Samsung copying the look and feel of the Apple iPhone.
source:
AllThingsD