Want notifications on your wrist but smartwatches not fancy enough for you? Bluetooth LED bracelet on the way
2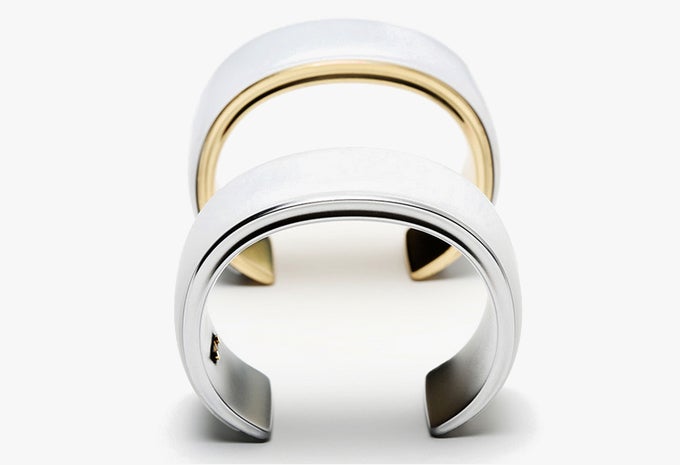 Arguably, wearables are having a tough time picking up in popularity due to their limited usefulness, short battery life, and last but not least – cumbersome design and plasticky looks. Still, there are people who would like to see notifications on their wrists, as long as they are projected from a fancy-pants package. We already know that
HP is working on a fashionable smartwatch
with the help of fashion designer Michael Bastian, however it doesn't look like it would grace the wrists of ladies very often.
Well, elemoon is a brand new product, which is doing quite well on Kickstarter ($55,900 pledged of $100,000 goal, as of writing this). It's a smart bracelet that has a grid of multicolor LEDs on top of it. It connects to one's smartphone via Bluetooth and has three main functions – it displays notifications by drawing custom icons on its LED-laden face; it helps you find your phone – rubbing the bracelet produces a phone ring (most probably not a useful function if you are out of Bluetooth range); it tries to match the color palette of your outfit – all you need to do is take a picture of your clothes with your phone.
The bracelet will initially come in 2 models. They don't differ much in design, it's just that one has a gold-plated base, whereas the other one is covered in silver. If you are male and already foaming at the mouth for such a product – elemoon creator Jing Zhou has confirmed that there are plans for male models. And if you absolutely can't wait – the silver model looks kind of maybe unisex-ish.
If you are already looking for the "Buy!" button – you can back elemoon over at Kickstarter. For a $199 pledge, you can pre-order a bracelet and a jewelry box to store it in. Higher pledges can get you a pair of elemoons, custom engravings, and some other perks. Shipping for backers is said to begin in February, 2015.
source:
Kickstarter
via
Endgadget