Want FaceTime over Cellular on AT&T? Better have a Mobile Share plan
26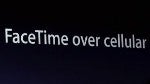 "AT&T will offer FaceTime over Cellular as an added benefit of our new Mobile Share data plans, which were created to meet customers' growing data needs at a great value. With Mobile Share, the more data you use, the more you save. FaceTime will continue to be available over Wi-Fi for all our customers."-AT&T
FaceTime over Cellular is a new feature that is being made available to Apple iPhone users in iOS 6. Previously, FaceTime users had to be on a Wi-Fi network for the feature to work. AT&T is holding the new cellular connectivity for FaceTime as a hostage, offering the service
only to those with a Mobile Share plan
. The carrier would rather eliminate as many names as possible from its list of grandfathered unlimited data plan users.
AT&T Mobile Share will launch August 23rd
and offers users free talk, text and various amount of data per month to
cover all of their devices
. 1GB will cost you $40 plus $45 for each smartphone on the plan while 20GB runs $200 plus $30 for each smartphone or feature phone. Tablets cost $10 each to be added to a Moble Share Plan. There has been speculation that AT&T would restrict FaceTime over Cellular since
evidence to that effect was found in the beta version of iOS 6
.
As far as the other major carriers in the U.S. that carry the Apple iPhone, Sprint says
that it will not charge for FaceTime over Cellular
while Verizon has yet to say if it will have restrictions on the feature.
source:
MacRumors
via
IntoMobile
Recommended Stories