Walking and talking on your cellphone can lead to a trip to the ER
1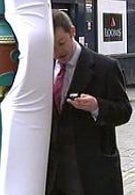 While many consider the cellphone a dangerous distraction to operate while driving, with all of the features of the modern smartphone, even something that is second nature to us normally-walking-becomes potentially dangerous while talking, texting or browsing. Slightly more than 1,000 pedestrians visited an ER in 2008 as a result of an accident that occurred while walking and using a cellphone. That was double the number of such incidents that took place in 2007 and nearly twice the number that took place the year before, according to a Ohio State University study that was brought up in a story in Sunday's New York Times. A professor of city and regional planning at Ohio State, Jack L. Nasar says the figures are just the tip of the iceberg and that many such accidents are not reported because the physical and property damage is not high enough to get the police or insurance companies involved. The professor also points out that text usage is rising and with the greatly increasing number of third party apps available for smartphones, there are thousand new, potentially dangerous, distractions that can be added to your handset.
Half of those injured while distracted by their phone while walking were under 30 and a quarter were 16 to 20. More than a quarter were age 41 to 60. Some of the incidents include a 16 year old boy who walked into a telephone pole while texting and suffered a concussion, a 28 year old man who was gripping his device, tripped, and fractured his finger, and a sprained thumb belonging to a 68 year old man who fell off a porch while talking on a cellphone.
Some psychologists believe that pedestrians using a handset use both auditory and visual parts of the brain. As an experiment, a clown on a unicycle was riding around a central square on campus. Half of those walking alone spotted the clown and the number was slightly higher for people walking in pairs. Those using cellphones saw the clown only a quarter of the time. And because those walking in pairs scored better than 50%, it is not conversation alone that is distracting pedestrians.
For most who walk and talk or text and get hurt, the worst part is the humiliation. 20 year old art student Christopher Black was sending off some flirting-type texts to a woman when he heard a car honk. He immediately veered toward the sidewalk but crashed into the side of a parked car. Uninjured, his phone hit the ground as did hid pride. Both have recovered.
source:
NYTimes