WSJ: Casio smartwatch to be unveiled in 2016
10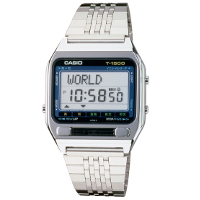 NOTE:
The watch you see in the image at left is a 1982 Casio model that helped the user study English. The watch was priced at $200. Another version priced at $225 contained conversation samples in various languages for world travelers. It also featured embedded English to Japanese and Japanese to English dictionaries.
Well before smartwatches roamed the earth, electronics manufacturer Casio produced timepieces that could double as a calculator, or a weather station, or a calendar that would remind you of appointments. With this background, it is surprising that Casio hasn't developed a smartwatch. But according to a report in today's
Wall Street Journal
, Casio is joining the growing list of smartwatch manufacturers with an intelligent timepiece of its own, coming early next year.
Those hoping for a technological masterpiece from Casio might be disappointed. According to the Journal, the company will focus its smartwatch on comfort and durability instead of technology. The paper says that Casio will offer a watch with some of the same features found on smart devices, rather than offering a smart device that happens to be a watch. Kazuhiro Kashio, Casio's new chief, says that the goal is to produce "
a device that won't break easily, is simple to put on, and feels good to wear
." Those are very modest goals in comparison to the
Apple Watch
and Android Wear powered smartwatches.
The executive says that the Casio smartwatch will be affordable, priced in the same range as the entry level Apple Sport ($349). The device will launch at the end of next March in the U.S. and Japan, and will be targeted at men who like to partake in outdoor activities including sports. Kashio says that he would like the Casio smartwatch to ring up $80 million in sales quickly, and expand from that point.
Does the world need, or even want a smartwatch that has fewer capabilities but is easier to put on? Casio says it does. We should know if the Japanese company is right in less than a year.
source:
WSJ