Vulnerabilities already found in Sprint's customizations for the HTC EVO 4G?
15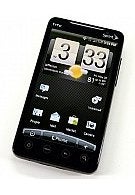 Most people eager in lining up tomorrow at the crack of dawn to purchase the highly touted HTC EVO 4G don't necessarily want to hear bad news about the handset on the verge of launch. Although there already seems to be one bug that popped up in regards to issues with
saving data on a microSD card
, there's yet something a little bit more serious that can raise an eyebrow quickly. This time around, there is an apparent vulnerability found on the HTC EVO 4G from the source that reportedly managed to
root the handset a week ago.
It's being alleged that "the Sprint customizations of Android are so bad that an Android application could get access to all of your data with very little work." It won't be long before this "unrevoked" exploit is made public on Friday – which is just bad timing when Sprint plans to roll this out nationwide. With the looming notion that there are vulnerabilities with the HTC EVO 4G, it remains unseen if Sprint will make any moves to address this issue.
HTC EVO 4G Specifications
|
Review
source:
Grack.com
via
Electronista