ViewSonic has its 10" Android 2.2 tablet for $379 at Sears
3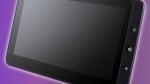 ViewSonic announced its
10" dual-boot Windows 7/Android tablet at the IFA expo in September
, and named it the Viewsonic ViewPad 100. Take a zero out, and this same slate seems to be on sale now at Sears for $379, under the Viewsonic ViewPad 10 title - at least the specs listed in the description say so.
It turns out, however, that Sears is actually selling its Android-only brethren, called the G-Tablet, for that price, and has mismatched the description of the two. If you are starting to have warm feelings towards ViewSonic for bringing you a sub-$400 10" Froyo tablet with dual-core 1GHz Tegra 2 chipset, 16GB of internal memory, and a battery life good for 8-10 hours, hold your horses for a bit.
First off, this is reportedly the Wi-Fi-only version, no 3G and GPS functionality on this puppy. Next, it appears to ship with 512MB of RAM, unlike the listed 1GB, when it was announced. While half a gig of RAM is more than enough for Android 2.2, unfortunately this device isn't certified by Google, so the usual bunch of "with Google" applications is not on it. Most notably, you don't have access to the Android Market, and have to use third party services like SlideME for your application needs. For some reason, Flash 10.1 is also not present in the browser, so you will be having a Froyo device with no Android Market access, and Android 2.1 browser. There is a customized interface on the ViewSonic G-Tablet, called TapUI. Have a look at the unboxing and interface overview of the tablet in the video below.
Still, the smokin' hardware of the 10-incher is there, so check on XDA-devs often to see if a thread has been started for creating custom ROMs for the ViewSonic ViewPad 10 - that will be a serious sign to consider the purchase of the otherwise quasi-Android tablet.
source:
Sears
via
AndroidandMe
Recommended Stories