Video shows that Apple CEO Tim Cook is carrying the iPhone X with him
71
Production delays for the
Apple iPhone X
, you say? It will be impossible to pick one up until the middle of next year, you say? Well, that obviously isn't the case if your name is Tim Cook and you're the CEO of Apple. Back in August, a picture of the executive
showed the outline of what was rumored to be the iPhone X in his pants pocket
. With that picture, it was impossible to tell exactly which phone Cook was packing. Today, a new video makes it clear that the Chief Executive carries the iPhone X in his right pocket.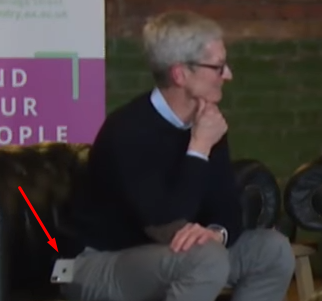 The video at the top of this story was taken last week at a Q&A session at Oxford University. Cook was sitting in a chair and the iPhone X slowly worked its way out of the pocket until it fell on the chair. He gave it a quick look, perhaps employing Face ID to unlock the device, and then flipped it upside down on the chair. By the way, we can tell it is the iPhone X because of the vertically mounted dual camera setup on back.
While the CEO of Apple gets to own the iPhone X weeks in advance, the rest of us mortals need to wait until October 27th to pre-order the phone, which is expected to launch on November 3rd. While there always will be an iPhone X lying around the Apple campus for Tim Cook, you'll have to hope that Apple is able to produce enough units to sell you one. The 64GB model will cost $999 while the 256GB version will be priced at $1,149.
source:
UniversityofOxford
via
BusinessInsider