Video shows off new magenta dress chosen by T-Mobile fans for actress Carly Foulkes
18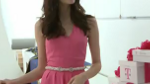 T-Mobile
has been personified in a multitude of ads by actress
Carly Foulkes
, whose dotted magenta dress has been the subject of parodies, especially those making fun of
AT&T's proposed purchase of the nation's fourth largest carrier
. Earlier this year, T-Mobile asked its fans to select a new dress for Foulkes to wear in the next batch of T-Mobile ads.The video below shows the new dress along with a backstage look at the latest T-Mobile commercial, T-Mobile's 4G Wonderland, and the commercial itself.
You can tell how successful a commercial is by how much it becomes part of pop culture, and there is no question that the "T-Mobile Girl" has become a cultural icon. What will happen to her if AT&T's bid to buy T-Mobile is successful? Most likely her character will go the same route as
"Speedy" Alka Seltzer
,
Clara "Where's the Beef" Peller
and the
Verizon "Can you hear me now?" guy
.
source:
T-Mobile