Video shows early look at BlackBerry 10.3
46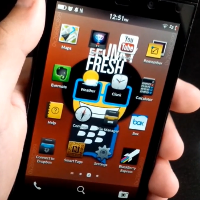 Last month,
we wrote about many of the changes expected in BlackBerry 10.3
, but at the time we only had some screenshots to show you of the updated OS. Now, we can show you a video that shows off some of the changes that BlackBerry users can expect when the next update is made to BlackBerry 10. One of the most eagerly awaited features is BlackBerry's virtual personal assistant. Called Intelligent Assistant, this app does the same things that Siri, Google Now and Cortana do. At least it is supposed to, when it works. On the video, it was clear that Intelligent Assistant was neither intelligent or much of an assistant on this early version of BlackBerry 10.3.
Many of the new camera features are discussed, such as the panoramic feature. The latter has received high praise from those who have tested this setting. A self timer is now included for selfies, along with settings for HDR, and resolution. Speaking about the camera, there is a new photo gallery for your pictures. Also included is a new Automatic Stories feature that splices together pictures and video by time and location. The idea is that you can create a visual story.
The home page is much more attractive with those ugly grey backgrounds in back of app icons removed in place of a tiny drop shadow. Talk about addition by subtraction! BlackBerry Hub now features a flatter UI in BlackBerry 10.3. The accent color in Hub has been changed to orange from blue. Another color change is found with the web loading bar, which is now green. Our earlier story mentioned the new focus on Black and Red in BlackBerry 10.3, and many of the applications sport red accents.
Instead of giving everything away, why not take a look for yourself. Simply click on the video below to see some of what the next build of the BlackBerry 10 OS will bring. Keep in mind that this particular version is a couple of months old, which means that you can pretty well bet that some changes have already been made.
source:
N4BB