Video shows Windows 10 appearance updates – wallpaper, quick toggles, and organized settings, finally
19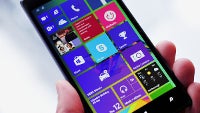 Windows Phone 8.1 is a pretty effective OS, though, many may find its unorthodox menus to be rather dull. The home screen of Microsoft's current system always has a black background and the closest thing a user can get to a wallpaper is to have a picture, which will only show through the back of the tiles, a bit as if the user is glancing at the image through many windows (hurr hurr). Sliding from the right will present the app menu, which is entirely white text on black background, making matters even less colorful.
Well, thankfully, Windows 10 will be bringing a "full background" mode – one that puts an image over the dull black wallpaper in both the start menu and app list. The tiles will be slightly translucent, covering the image with their own tint, and giving the system a much more colorful style. Fear not, fans of the classic look, as Joe Belfiore has confirmed that the "full background" and "in the tiles" looks will be user-selectable.
@OpenPlumbob yes... Were planning to include both the "full background" and "in the tiles" options.

— joebelfiore (@joebelfiore) February 13, 2015
Other changes include adding some order to Windows Phone's chaos – the notifications in the drop-down menu will now be neatly separated by a thin white line, making things a bit easier to understand at a glance. The quick toggles used to be limited to 4 only, but will now be expandable to (what looks like) 12. And, last but not least, the settings menu has finally been rearranged, with the many options tucked in sub-menus, which should take care of the clutter many users have been having an issue with.
Check out the video below for a quick look at the Windows 10
technical preview
.