Video shows BlackBerry OS 6 in action on the 9800 Bold Slider
This article contains unofficial information.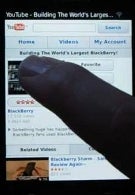 In the last few days we have had the pleasure of
passing on
some pictures of the hottest looking BlackBerry to ever grace the hand of a corporate chieftain. The BlackBerry Bold 9800 Slider has the Storm's modern, sleek navigation that today's touchscreen devices bring, but also includes the Bold's easy to use physical QWERTY keyboard that is the mobile typist's dream. Had this handset been launched in November 2008 instead of the Storm, the cellular landscape would probably be much different than it is today. A look at the new BlackBerry OS 6 in action shows off a nice homescreen with see-through icons after the AT&T boot-up screen. Flick scrolling appears to be very smooth and the music player resembles Apple's cover flow. The touchscreen appears to be very responsive and the accelerometer works perfectly. One negative thing we noticed was that the device used the mobile version of YouTube leading us to believe that there is no special client for the video site. The landscape virtual keyboard was very Storm-esque but without SurePress. The WebKit browser showed off tabbed browsing. Take a look at the video and let us know if you think that RIM has a big winner here.
RIM BlackBerryBold Slider Preliminary Specifications
source:
TheBerryFix