BlackBerry Bold 9800 confirms it is AT&T bound
This article contains unofficial information.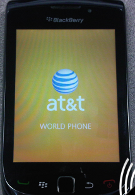 We earlier
reported
that the love child of the BlackBerry Storm and BlackBerry Bold-the Bold 9800 Slider-is coming to AT&T. Well, it just so happens that the device itself gave us a confirmation about AT&T as it was photographed with the carrier's boot-up screen logo. And there's more. Because we usually see a nondescript "Property of Research In Motion" screen until a model is close to production, the Bold 9800 could be close to launch. Earlier speculation centered around a summer release. For 'Berry users, this handset seems to have it all from the touchscreen navigation of the Storm to the sensational physical QWERTY keyboard found on Bold models. Throw in the new WebKit browser that we
recently showed you
aced it's acid test with a perfect 100/100, and the finger friendly, visually appealing OS 6, and it looks like RIM has finally listened to its audience and is giving them what they want. And while BlackBerry has to fight the powerful momentum of Android and iPhone, we can already feel a swelling of excitement surrounding this model.
RIM BlackBerry Bold Slider Preliminary Specifications
source:
TheCellularGuru