Video shows BlackBerry 10 L-series in action
30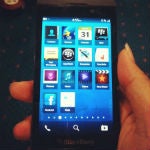 We just saw
leaked photos
of the next generation BlackBerry 10 L-series handset, but still pics can really only tell you so much about what a device will be like. Moving pictures are a far better indication, and with that in mind, a video has leaked showing RIM's next handset in action. Of course, the leaked video is from Vietnam, so most of you probably won't be able to understand what's being said, but that's not really all that important.
The interface looks like we have expected, and many of the transitions and gestures look pretty good. The notifications and
BlackBerry 10's Active Frames
can be seen around 2:50 in the video, and it looks like a pretty good system for getting around. There are still a couple hitches here and there, but for the most part, it looks like BlackBerry 10 is almost ready to go, which is a good thing given that the release announcement is expected exactly 7 weeks from today.
The rumor mill and leaks should be ramping up with January 30th not too far away, so get ready for more BlackBerry news.