Video: new Sony Xperia Z2 and Samsung Galaxy S5 concepts will leave you wanting for more
71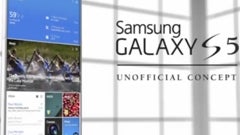 Both Sony and Samsung will likely unveil their next-gen flagship Android smartphones pretty soon. We're all assuming that they'd be called
Xperia Z2
and
Galaxy S5
, respectively, although Sony and Samsung might surprise us with different names. Regardless of that, the two handsets will definitely be direct competitors in the high-end segment of the market.
We've already seen concept designs showing
the Galaxy S5
and
the Xperia Z2
, but there are new ones out there that are definitely worth a look.
First, let's see the latest Samsung Galaxy S5 concept, made by T3 (in 3D, no less). In T3's vision, the S5 won't be a radical departure from the Galaxy S4. However, they're expecting it to have an aluminum body, and very thin bezels around the (rumored) 5-inch Quad HD display. They've put Samsung's new Magazine UX (officially revealed on the Galaxy TabPRO and Galaxy NotePRO) on the S5 - and that does look good. Check it out in the video embedded below.
As for the new Sony Xperia Z2 concept, this was made by Jermaine Smit. He's hoping the smartphone will have a 5.2-inch display, a "wrap-around-screen message indicator", 3GB of RAM, a 23MP rear camera, a 2.5MP front-facing camera, and an ultra-thin body. You can see the Z2 concept in the video and photos below.
We're not sure which of the upcoming smartphones will be announced first. But we'll certainly let you know when we find out. Anyway, assuming that both handsets will be similar to these new concepts, which one would you rather get?
sources:
T3
,
Jermaine Smit