Verizon's web site hints of two new BlackBerry 7 OS models
11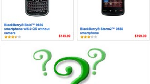 Yesterday
we tried to soothe the ruffled feelings of BlackBerry fans using Verizon
, some of whom are still wondering why
Big Red has yet to announce which of the new models it will offer
. Despite the
Verizon video of the BlackBerry Bold 9930
, which ended up on the Bold 9650 page by mistake, and a
tweet from a director
saying that he is filming a commercial for a new BlackBerry model for Verizon, some of you still don't believe that BlackBerry 7 OS is coming to Big Red.
Thanks to a eagle-eyed Crackberry forum member, we now have another indication that Sprint will not be the only CDMA carrier in the States to have these new 'Berry handsets in its lineup. On the Verizon web page listing the carrier's lineup of BlackBerry smartphones, it says there are 8 results. The problem is that there are only 6 pictures. Admittedly, our math isn't what it used to be, but that would indicate that there are2 BlackBerry units that Verizon is, ahem, hiding. If we are forced to guess, we would pick the
BlackBerry Bold 9930
(which is probably cheating considering the video) and the
BlackBerry Torch 9850
.
As we
reported
, the same pair will be added to Sprint's roster later in the fall. Considering that it is still August, perhaps we are being too hard on Verizon for not yet saying a word. For those still worried that Verizon might not offer any of the new BlackBerry models, we would say that the
evidence would suggest otherwise
. And, we would add, with all due respect, get a hobby.
source:
Crackberry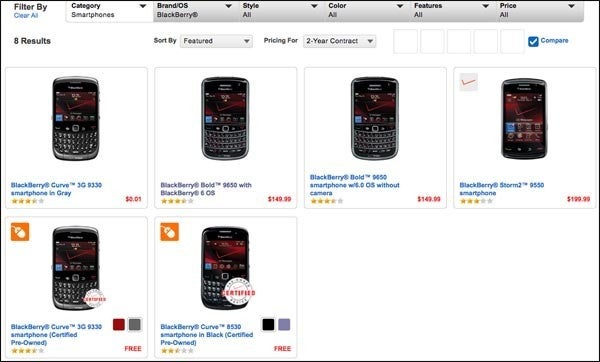 Verizon's website discrepancy suggests 2 new BlackBerry models are coming to Big Red
**UPDATE**
It seems that our loyal readers are even more eagle-eyed as it has been pointed out that the 8 results for BlackBerry smartphones on the Verizon web site take color choices into consideration. The BlackBerry Curve 3G refurbished model and the BlackBerry Curve 8530 refurbished are both available in two colors each. However, it doesn't take away from the idea that Verizon will be offering the BlackBerry Bold 9930 and the BlackBerry Torch 9850 later this year.