Verizon's big trio appears on Cellebrite system, HTC Vigor, Google Nexus Prime and Motorola DROID HD
75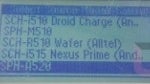 As the week draws to a close,we have some very good news for Verizon customers who have been eagerly awaiting one of the carrier's upcoming trio of high-end Android phones. The
HTC Vigor
, the
Google Nexus Prime
and the
Motorola DROID HD
(aka DROID RAZR) all now appear on the Cellebrite system. That is the machine that the carriers have in their stores, used to transfer over your contacts and other information from your old handset to your new one. While appearing on the Cellebrite system doesn't indicate that a launch is imminent, it still is a good sign that a launch could be happening soon.
First to be rolled out will most likely be the
HTC Vigor with October 13th a previously mentioned launch date
. This model will have a 4.3 inch screen with a 720p resolution, a zippy 1.5GHz dual-core processor and 1GB of RAM. This model
will have the Beats Audio brand
which means it will come with those special red Beats by Dre earphones.
Next should be the
Google Nexus Prime, which has been rumored to have a November 3rd launch date
. This is scheduled to be
the first Android phone running Ice Cream Sandwich
and the early word is that Verizon will have an undisclosed period where the phone will be exclusive to Big Red. Just the other day, a list of apps was leaked and
miraculously, it appears that there will be no Verizon bloatware on the phone
. The speculation is that this model will have a massive 4.65 inch curved glass display with 720p resolution, a 1.5GHz dual-core processor, 1GB of RAM and 16GB of native storage. A microSD slot is on board and a huge 2000mAh battery supplies the juice. Supposedly, the browser has been reworked with smoother "pinch-to-zoom" while the calendar and Gmail have also been improved. A 5MP camera on back captures 1080p video and there is a front-facing camera as well. This phone is expected to be a pure Google experience model.
The Motorola DROID HD would be last among the three to launch. Also called the
DROID RAZR
,
the phone is due out in time for the holiday shopping season
with a chassis made of Waterproof Kevlar (the same material used in bulletproof vests) and is rumored to offer a 4.3 inch qHD Super AMOLED display, and have a 1.2GHz dual-core processor under the hood with 1GB of RAM aboard. An 8MP camera captures video at 1080p.
Now that all three appear on the Cellebrite system, next step should be the dummy units headed to Verizon stores and perhaps we will find some leaked ads as well. Those who used up all their will power and passed on the Motorola DROID BIONIC might find themselves rewarded for waiting.
source:
DroidLife