Verizon's Skype client shuts down Wi-Fi on Android phones?
This article contains unofficial information.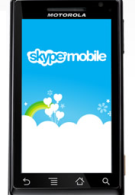 According to Skype Journal, Verizon customers using an Android model cannot use the Skype client and Wi-Fi together at the same time. Something in the software disables theWi-Fi radio and the user gets a message that reads, "Skype mobile does not currently work on WiFi and requires switching to a Verizon Wireless data network connection. This may affect other apps using a WiFi connection." Big Red blames the problem on an Android glitch that requires the user to disconnect from a hotspot before running Skype Mobile. Verizon also points out that because the app runs over the carrier's voice network, certain requirements must be met, including certain wiretap laws. Thus, the more secure 3G network must be used instead of Wi-Fi. The complaint here is that by forcing calls to be made over 3G, Verizon customers are using minutes that they had hoped to save. Verizon says it is working with Google to correct the glitch.
source:
SkypeJournal
via
DSLReports