Verizon's Samsung Galaxy S III gets updated to Android 4.3
10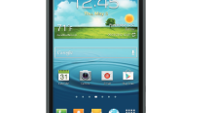 It's a good morning for those Verizon customers sporting the
Samsung Galaxy S III
. Android 4.3 has started rolling out for the phone, and brings with it support for the Samsung Galaxy Gear smartwatch, enhancements to MultiWindow, and the ability to move some apps from internal memory to a microSD card. Other added capabilities include the addition of 'sound and shot' for the camera, the ability to access music player controls from the lock screen, support for more Bluetooth smart accessories like heart rate monitors, pedometers and thermometers, and users can now roam using the device on Canada's Telus network.
For those who use Starter Mode, which allows those new to a smartphone to quickly set up their home screen, the application has been renamed Easy Mode with this update. Other renamed applications and features include Samsung Link (changed from AllShare Play), Screen Mirroring (formerly AllShare Cast) and Samsung Hub (consolidated from Media and Music).
Some other changes included in the update includes one that no longer sends out a premium text whenever Isis Wallet is authenticated. The extra volume button on calls has been moved to the top of the End button, and the noise reduction icon can now be found on the call screen as a toggle button. Among the changes is a new font for the time and date, and a notification panel grid has been added. The update also adds 5GB of Verizon cloud storage for you to use. Using the Verizon Cloud app, you can backup and store content in a safe place, transfer content among multiple devices like a smartphone, tablet and PC, save texts, contacts, media and other content, and restore data on a new device if your old phone is lost or stolen.
Some of the bugs being killed off by the update include one that had your name incorrect when dialing the voicemail call back number, and a problem with the notification sound for emails has been fixed. Other exterminated bugs includes one that kept showing a "No SIM card" notification. And the text message app no longer closes while you're writing a message. The complete changelist can be found at the sourcelink.
The update is being released OTA, and you should make sure that you have at least 50% of your battery charged and be on a Wi-Fi network when you download and install it.
source:
Verizon
via
AndroidCentral