Verizon's Motorola Droid Turbo docs leak out: the most spec'd-out phone in the world
99+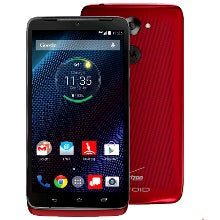 Motorola is about the only manufacturer that hasn't chipped in for the holiday shopping craze, but it's about to enter with a bang - no, with a supernova, if the official
Motorola DROID Turbo
specs are anything to go by. Yep, we just got sent the Turbo info that is circulating amongst Verizon staff, and the DROID Turbo sounds like the dream device for 2014, indeed.
The eye-watering specs that we heard rumored before are all but officially confirmed now. DROID Turbo will sport a 5.2" QHD panel with 565ppi pixel density, which immediately puts it
on par with the most resolute smartphone display so far
- the one on the
Galaxy S5 LTE-A
. Moreover, it will be powered by the latest commercially available Snapdragon chipset - the 805, clocked at 2.7 GHz. That's not all on offer, though, as the Turbo earns its name with 3 GB of RAM, 32 GB of storage, 21 MP camera on the back with dual LED flash, and the whopping 3900 mAh battery, making it the dream phone everybody would salivate after, at least on paper.
When it comes to design, the Motorola phone introduces a metal frame, on which a chassis clad in a new, Metallized Glass Fiber (MGF) material is hung, reinforced with... you guessed it... the good ol' Kevlar. As you can see, there are black and red versions of the handset, with the fiery hue looking particularly stunning.
The Motorola DROID Turbo doesn't stop at the 3900 mAh battery, which is a record in its class, promising two full days of Android-ing, similar to
the new Xperia Z3 and Z3 Compact handsets
, which will make it the longest-lasting phone with a Quad HD panel. You can also get eight hours of usage from it with just 15 minutes of charging, and will be able to top off the capacious juicer quickly with the supplied Turbo Charger. The phone supports Verizon's XLTE network, and within 30-90 days of release will be getting the ability to simultaneously call and use data. Definitely the most amazing handset Motorola has produced to date, and will easily be the most spec'd-out device on the market, too, when it arrives at the end of the month. Any takers?
Thanks for the tip, Doug!