Verizon's Motorola DROID Ultra sells out on Best Buy's website
16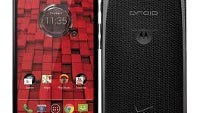 Any worries that Motorola's new updated DROID flagship might not be able to compete with other high-end phones were dissipated a bit with the news that the
Motorola DROID Ultra
has sold out at Best Buy's website. The next evolution of the line that kicked off Androidmania is up against a number of high-end Android phones like the
Samsung Galaxy S4
, the
HTC One
and the
Sony Xperia Z
. In addition, Verizon customers will be able to purchase the
HTC One
in just two days. And the day after that, the
Motorola Moto X
will launch on Verizon. So in light of all of this competition, the sell out on Best Buy's site has to be considered a good start for the phone.
The Motorola DROID Ultra is $199.99 with a signed two-year contract and some have been critical of the manufacturer's decision to go with a 5 inch screen with 720x 1280 resolution. That results in a 294ppi pixel density which is not awful, but is certainly well below the 440ppi figure that 5 inch models with a Full HD (1080 x 1920) resolution offer. Another complaint involves the lack of a microSD slot on the handset which means buyers are stuck with the 16GB of native storage on the device.
As of Tuesday evening, the phone is still available from Verizon's website, but from Big Red, the device could ship as late as August 27th. If you don't mind paying an extra $100, you can pick up the
Motorola DROID MAXX
which has the same specs as the DROID Ultra but has a higher capacity 3500mAh battery which allows you to go 48 hours between charges. The DROID MAXX also gives you 32GB of native storage and is still available from Best Buy's site.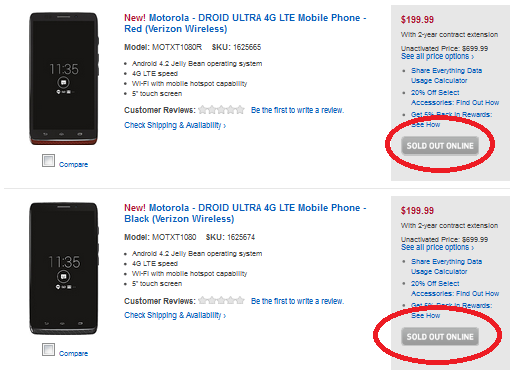 The Motorola DROID ULTRA sells out online at Best Buy
Thanks, Anonymous Tipster!
source:
BestBuy
Recommended Stories