Verizon's Mobile Recovery lets you find your lost or stolen smartphone
7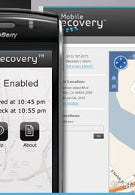 56% of cell phone owners lose or misplace their device at least once a month. But if you are a Verizon customer who has signed up for the carrier's Total Equipment Coverage, you can add Big Red's new Mobile Recovery plan for free. This service lets you find your lost or stolen smartphone. First, an alarm sounds which lets you know if the device is nearby. If you don't hear the alarm, Mobile Recovery will take you to the phone's last known location using GPS and giving you turn by turn directions that will lead you straight to the device. Even if the phone was turned off or the battery was dead, Mobile Recovery will still provide you with the device's last known location.
Suppose your Storm2 is stolen and you have the top secret formulas of Coca-Cola and Kentucky Fried Chicken on it. Thanks to the Mobile Recovery service, any sensitive information on the phone can be protected by locking the handset. Phone numbers on your contact list that you want to remain secret can be remotely wiped. If the phone cannot be recovered, filing a claim with your Total Equipment Coverage protection could lead to a replacement unit in your hands as soon as the next day.
If you are a Verizon customer with Total Equipment Coverage, head over to the sourcelink to sign up for Mobile Recovery. Not only is it free, but it just might save you from the aggravation that goes along with losing your phone.. Check out some animated information about the service by clicking this
link
.
source:
MyMobileRecovery