Verizon's Android market share is slipping
41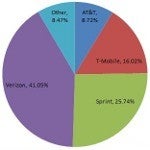 Verizon has been the biggest driving force behind Android in the USA. Verizon Wireless is huge, and before the iPhone showed up on its red shores,
80% of its smartphone sales
were Android devices. So, not surprisingly, Verizon has held, and continues to hold the number one spot in Android market share, but its lead is slipping.
The budget carrier increase is welcome news as far as we're concerned. Verizon's service is expensive, and it doesn't really carry low-cost Android options, so it's nice to see consumers making the most of their purchases and not simply opting for whatever the big guys offer. Of course, even with the dip, Verizon is still number one, and holds 4 of the top 5 Android devices in the US (DROID X, HTC DROID Incredible, Samsung Fascinate, and OG DROID.)