Verizon's 5G network and coverage: all you need to know
3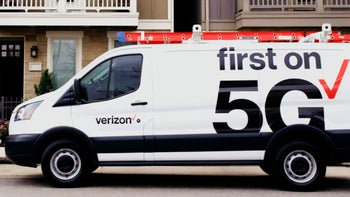 Verizon Wireless was among the first carriers to roll out a commercial 5G network in the United States.
Verizon's 5G network went live in April of 2019, but its availability at launch was extremely scant. To be perfectly precise, the network was available in some parts of downtown Chicago and Minneapolis, and that's it.
Philip Michaels of Tom's Guide flew to Chicago to test the network in April 2019 and
here is what he found out
:
"My most consistent 5G connectivity came at the intersection of Ontario and Wells Streets, but only on one corner. If I were to cross the street, the 5G signal would become spotty or drop altogether. In other words, you and a friend could stand across the street from each other holding identical phones — and only one of you is hopping on 5G."
Things have improved as of summer 2019, but not by much, and you should not expect perfect city-wide coverage, but more of a 5G reception on certain blocks in the downtown areas.
What bands does Verizon Wireless 5G network use?
Verizon's 5G network so far is based entirely on mmWave spectrum. Those are extremely high-frequency waves that allow for great capacity, but have trouble traveling over long distances and going through obstacles like walls. Rivals estimate that Verizon will need to make a $1.5
trillion
dollar investment if it wanted to get nationwide 5G coverage using this technology. Clearly, that is not something that any carrier would ever spend on a 5G network, which is why chances are that Verizon's 5G network will be limited to the most densely populated urban areas.
With this in mind, the exact bands that Verizon Wireless uses as of 2019 are the following:
n260

: 39 GHz

n261

: 28GHz US
What phones support 5G on Verizon?
The first phone to support these 5G bands officially is
Moto Z3
(
specs here
), but only if you bundle it with the big and bulky, $350 snap-on 5G Moto Mod accessory.
The only other phone with stand-alone 5G connectivity that does not require any accessories is the $1,300 Samsung Galaxy S10 5G (
specs here
), clearly a very expensive device.
More phones are on their way, but as of 2019, 5G requires a separate modem that takes up additional space and this means that phones with 5G support are physically quite big. The modem used in most first-gen 5G devices is the
X50
modem that works in tandem with the Snapdragon 855 chip.
Which Verizon plans include 5G?
As of 2019, Verizon offers 5G connectivity for subscribers on its
beyond
unlimited and
above
unlimited plans.
Here is how prices and features break down for these two plans:
| | Beyond Unlimited | Above Unlimited |
| --- | --- | --- |
| Price per line (single line) | $85 | $95 |
| Price per line (two lines) | $80 | $90 |
| Price per line (three lines) | $60 | $70 |
| Price per line (four lines) | $50 | $60 |
| Features and Data limits | 22GB of data, 15GB of mobile hotspot per line | 75GB of data, 20GB of mobile hotspot per line, 5 TravelPasses per month |
Keep in mind that these are early days for 5G and in the future, when 5G support spreads to more locations, Verizon will likely review its plans. Expect to see higher prices for 5G as this will probably be considered a premium feature that you need to pay extra for.
Verizon's 5G network coverage plans for 2019?
As of June 2019, the Verizon 5G network coverage extends to limited parts of Chicago and Minneapolis.
In Chicago, you can get what Verizon calls a 5G Ultra Wideband service in The Loop area, specifically the West Loop and the South Loop. You will also get coverage around the Verizon store on The Magnificent Mile, and throughout The Gold Coast, Old Town and River North.
In Minneapolis, 5G coverage will be concentrated around the Downtown area, including Downtown West and Downtown East. You will also have 5G in some areas of Elliot Park and in the Verizon store at Mall of America.
And here is the list of cities where Verizon plans to roll out 5G by the end of 2019:
Atlanta, GA
Boston, MA
Charlotte, NC
Cincinnati, OH
Cleveland, OH
Columbus, OH
Dallas, TX
Denver, CO
Detroit, MI
Houston, TX
Indianapolis, IN
Kansas City, MO
Little Rock, AK
Memphis, TN
Phoenix, AZ
Providence, RI
Salt Lake City, UT
San Diego, CA
Washington DC
Verizon's 5G technology: a recipe for a coverage disaster
One thing that stands out when you compare the frequency bands that Verizon is using is that those are high-frequency bands in the mmWave spectrum. There are two different types of 5G bands, frequency range 1 (FR1) type that most of the world uses and then, FR2 that Verizon and a few other in the US use. FR1 includes bands at frequencies of around 3.5GHz, not too far off current 4G LTE bands, while FR2 bands are much shorter bands at 28GHz and more that can carry a lot of data, but cannot travel far and usually cannot even go through walls at all. Verizon is sadly so far building a network based solely on FR2 spectrum, meaning that it will need to build millions of stations and spend literally trillions of dollars, and it will still not be able to get proper nationwide 5G coverage.
Unless Verizon starts using FR1 bands for 5G, its markets will have extremely limited 5G coverage, usually concentrated in the most densely populated urban areas only.