Verizon will be taking iPhone 4S pre-orders starting tomorrow
24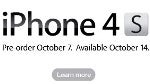 The big news from earlier this week was that
Apple introduced
the new iPhone 4S, and Sprint will be taking
pre-orders
starting October 7th. Now we've learned that Sprint won't be the only one, as
Verizon Wireless
will also be selling the global-ready iPhone 4S on October 14th, and will be accepting pre-orders on the 7th as well.
To get the word out, Verizon has placed a large iPhone 4S graphic on the main page of their web site, which leads to their landing page with some basic info about the new device. From there, you can enter in your email address to be notified when the pre-order is live (which will be at 3:01am Eastern - Oct. 7th) and can also check if your current Verizon plan is eligible for an upgrade. Now keep in mind that if you are a current Verizon customer with a grandfathered unlimited data plan, you'll should still be able to use that with the iPhone 4S, but if you don't currently have the unlimited data plan, then you'll have to go with one of their tiered plans - starting at $30/month for 2GB.
If you are you planing on purchasing the iPhone 4S, will you get it with Verizon, Sprint, or AT&T?
Let us know in the comment section below.
source:
Verizon Wireless