Verizon triples LTE network capacity in some major cities
16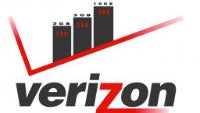 Verizon recently admitted that its LTE network in major cities was under
quite a bit of strain
because of the number of users it had. It was quite an impressive humblebrag, we have to say, but it also set the stage for the upgrade that is happening right now. Verizon Wireless Chief Network Officer Nicola Palmer talked to GigaOM about the massive upgrades to LTE network capacity happening in cities around the U.S..
According to Palmer, Verizon has beefed up LTE network capacity in major cities like New York, Chicago, Atlanta, Boston, Seattle, Washington, D.C., Los Angeles, and San Francisco. In the downtown areas of L.A. and San Fran, Verizon has increased LTE network capacity by about 150%; but, in the other cities, Verizon has been able to triple capacity. This not only means more users can access the network at a time, but users should also see higher peak transfer rates, maybe even as high as 80Mbps.
Verizon has been able to increase capacity by leveraging the
AWS spectrum
that it has acquired from various sources, like
US Cellular
. Verizon's LTE network had been using just 20 MHz of spectrum, but now that is increasing. LA and SF are up to 30 MHz of spectrum, while the other cities are at 40 MHz. Verizon expects that the data load on its network will increase by a factor of six or seven in the next few years, so it will constantly be working to gather new spectrum.