Verizon to offer Madden NFL 12 for free from October 1st to the 3rd
26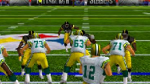 Verizon last year gave its Android users the NFL Mobile app which included a free year of the Red Zone. Now, Big Red is giving away some more football software. It was just about a month ago when
EA announced that Madden NFL 12 was being offered on the Android Market
for $6.95. Perhaps to show its loyalty, the carrier has a present for its customers using Android phones. Starting Saturday, October 1st through October 3rd, one of the most
popular sports games in the Android Market
will be offered for free! From Saturday through Monday, dialing **MADDEN (**623336) from any Verizon phone powered by Android will give you Madden NFL 12 for free.
And remember, Madden Football is more than just stick figures, even on a smaller phone screen. The graphics have been optimized for Android and the animations make you feel like you are in the game, absorbing every bone-crushing tackle.
And all 32 teams with real life rosters are represented
in the game. Be the "General Manager" by making trades, or be the coach and put together a winning playbook (no, not the BlackBerry PlayBook). The game allows you to track stats and see how effective your players are.
During the game, you can control both sides of the ball.
Total Defense Control (TDC) lets you pause the game and move your defensive players in position
to make that hard hit to jar the football loose, or make a pick and stop a long drive.
Action Control Time (ACT) lets you do the same thing with your offense and allows the ball handler to jive, spin, and juke
. Draw up your own routes for passing, running and defense. You can even call an audible at the line.
Finally, Madden NFL 12 allows you to play exhibition games, or replay the 2010-2011 NFL season in season mode. If a 16 game schedule is too long, you can reply just the playoffs if you want. Regardless, it all becomes available to you at no cost starting Saturday, thanks to Verizon. By the way, Verizon's online ad for the game mentions VCAST which means you might need to download the VCAST app store before loading up the game. Remember, this freebie is for Verizon's Android customers only.
**UPDATE**
We just spoke with a Verizon rep who informed us that the Madden NFL 12 game is only free to those Android users paying $10 per month for VCAST services. If you were able to download the game for free without being a VCAST,subscriber, let us know!
source:
PhandroidAndroidForum

Starting tomorrow until October 3rd, Verizon will give Android users Madden NFL 12